Update Your Fort Washington, MD, Home With ASCEND Siding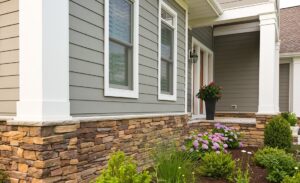 The time has come to replace your house siding, and we've got a recommendation for you. Southernwood Roofing & Siding proudly offers ASCEND® Composite Cladding, a premium product from Alside, one of the top manufacturers in the industry. We've expertly installed this durable and beautiful siding onto plenty of homes in Maryland, and we're looking forward to doing the same at your Fort Washington residence next.
An Innovative Siding Option
While we're proud to install a number of top-quality siding systems, ASCEND® Composite Cladding is truly special. It is the world's first composite cladding engineered with a combination of glass-reinforced polymer and graphite-infused polystyrene, allowing it to withstand years of outdoor exposure and various weather conditions without wavering. You won't have to worry about fading, warping, and rotting over time, so your siding—and therefore your home—will continue looking like new for plenty of years to come. This impressive composite siding is also crafted to mimic the look of real wood, providing the same charming and natural appearance but without the drawbacks like rotting and warping.
Swift & Skillful Siding Installations
If this siding wasn't impressive enough, ASCEND® Composite Cladding is incredibly easy to install because it doesn't require any sealing, touching up, joint flashing, or caulking. So, you can count on Southernwood's highly skilled technicians to complete an efficient and professional installation.
Contact Southernwood Roofing & Siding today to discuss having ASCEND siding installed onto your home in Fort Washington, MD.