Gutter & Gutter Guard Installation & Replacement
Gutters are an important part of your home or building's exterior. They prevent rainwater from overflowing and damaging your property and potentially causing other issues such as erosion.  Southernwood Roofing & Siding has provided reliable renovation services, including gutter installation, for homeowners and businesses throughout Friendly and Prince George's County for over 13 years. So, whether you are looking to replace your home's existing gutters with a new seamless system, install gutters on your new home, or install a gutter guard system, our home exterior experts have you covered.
Contact Southernwood Roofing & Siding online today or call 301-934-0043 to request an estimate on your gutter project in Friendly.
Friendly Gutter Replacement
When your gutter system isn't functioning as it should, it can cause issues such as structural water damage and erosion to the surrounding land. If installed properly, gutters can last over a decade, but there will come a time when they'll need to be replaced. Not sure what signs to look for? The following are six tell-tale signs that point to needing a gutter replacement:
Lots of cracks, holes, and rust in your existing gutters. If you have one or two, these can be repaired. But if multiple spots in your gutter system have defects, it might be time to consider calling in the professionals.
Many broken fasteners. Gutters are held onto your home's roof with metal fasteners. If more than one is broken—causing your gutters to pull away from your home—your gutters may be the problem.
Separated gutters. You want to make sure your gutters are one continuous system—if that's not the case, consider replacement.
Nails and screws have come loose. If you notice a few nails and screws on the ground around your home, they can likely be replaced. However, repeated instances of loose hardware can be signs of wear and tear on your gutters.
Water spilling over your gutters. If water is spilling over after a rain event, causing erosion, dirt channels, or pools of water, it may be a sign of gutter malfunction.
Flooded basement. When water continuously pours over near the foundation of your home, it can leak into your basement—causing costly damage that could have been avoided with a gutter replacement.
Gutter replacement can seem like an overwhelming project, but it can save you money in the long run. Our team goes above and beyond to make sure your gutter replacement project is as simple and stress-free as possible!
Get started with your gutter replacement in Friendly, MD today by requesting a quote!
New Seamless Gutter Installation in Prince George's County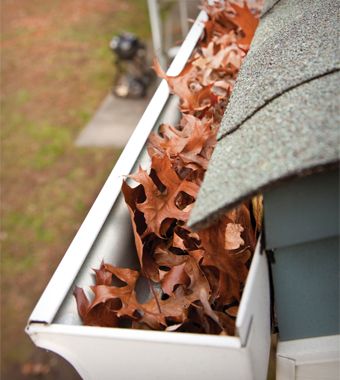 If you are building a new home or building in the Friendly area, you'll need a high-quality gutter system. Southernwood Roofing & Siding offers both copper and aluminum gutters. However, aluminum is often cited as being the best choice—and the most popular among homeowners and businesses in Maryland. In addition to being durable and cost-effective, another benefit to choosing aluminum gutters over other materials is the ease with which these gutters can be painted with the color of your choice. Southernwood Roofing & Siding offers 5-inch and 6-inch seamless aluminum gutters in a range of colors to suit your home. We've gone seamless because seamless gutters are superior to their sectional counterparts for a number of reasons including:
They greatly reduce the possibility of leaks
They stop water backup and debris blockage
They eliminate unsightly seams—improving the look of your home
They are much easier to clean
Don't wait—contact us today to have seamless guttering installed on your home or business in Friendly or the surrounding areas of Prince George's County, Maryland.
Friendly Gutter Guard Installation
Having a durable and functioning gutter system is important, but outside factors like leaves and other debris can often become a hassle during the fall. Stop cleaning the mess out of your gutters every week in November and install a gutter guard system such as Leaf Relief®. Our team has installed hundreds of Leaf Relief systems throughout Maryland. These systems are simple to install without disturbing roof shingles and fit most gutters. All Leaf Relief systems are backed by a 25-year "no-clog, no-overflow" warranty from PlyGem. Finally, you can enjoy the shade and beauty of the trees in your Friendly yard—without the leaves and debris!
Schedule Gutter Services in Friendly, MD
Our locally owned and operated home exterior company provides expert gutter and gutter guard services for homeowners and businesses throughout Friendly and Prince George's County. When it comes to installing the most durable, cost-effective gutters in Southern Maryland, you need a company you can trust to get the job done right—the very first time! At Southernwood Roofing & Siding, you can relax knowing that you have a leading company of professionals installing the gutters on your home.
To learn more about our gutter and gutter guard services in the Friendly area, fill out our online form or give our team a call at 301-934-0043!